Nerds Shadow Demon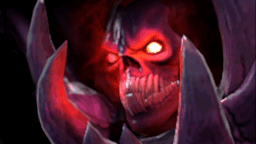 Shadow Demon
Midlane Core
Offlane Core
Updated: 3/9/23, 4:10 PM
Patch 7.32e
Hero stats
651
46.85%
27
25.93%
Description
Tome Rating:


Shadow Demon is an intelligence hero who can be played as a support or caster core. He has great wave clear and damage ability (Shadow Poison and Soul Catcher), while also having setup and save (Disruption). His main weaknesses are a low effective HP pool and the lack of any kind of mobility.

You can use Disruption early on as a tool to abuse your good base damage for better hit trading. You will be lacking mobility before you'll get to Blink Dagger, but you can compensate it by using Shadow Poison to scout territory. Your goal to just get levels as fast as possible and start nuking enemies down. With blink, you can start aggressive lane push by killing creepwaves with shadow poison and running away as soon as you feel somebody's coming. Splitfarming and lane shaving will help you to get items and levels faster, while also creating space for your team.

This build is partly based on SlashStrike's guide: https://dotaguides.com/core-shadow-demon-guide/
Skill Build
Talents
2 Charges of Disruption
25
-30s Demonic Purge Cooldown
-1.25s Shadow Poison Cooldown
20
+10% Disseminate Shared Damage
+200 Demonic Purge Damage
15
+25 Movement Speed
+12 Strength
10
+15% Shadow Poison Damage
Tooltips
Spells Tooltips

Disruption

Disruption at level 1 allows you to secure bounty runes and range creep denies. You max poison first, always, since it's your farming and wave-pushing tool. After that you want to level Disruption and Soul Catcher simultaneously, with Disruption being maxed first because its cooldown scales significantly better.

Demonic Purge

May be worth skipping at lvl 6 since it's not as significant in terms of damage, but slow and constant purge are very valuable

Shadow Poison

Main farming/damage tool When trying to solo-kill on the lane, both your Disruption and your ult essentially give you 1 guaranteed stack of Shadow Poison. This means that as soon as you hit 2, you can Disrupt, hit a 3rd + apply Catcher, step back so you're less vulnerable, ult when they come out and hit a 4th one.

-1.25s Shadow Poison Cooldown

This is probably the most one-sided choice of all, the cooldown reduction is what sends this hero into OP territory, Shadow Poison basically becomes your auto-attack, it takes you only 4 seconds to insta-kill a creepwave from two screens away (if you're good at aiming), it takes you 5 seconds to pop a hero for 2000+ damage, etc.

+15% Shadow Poison Damage

movement speed is no joke, and this hero runs around a lot. However, once again the 25% Shadow Poison damage is just a huge difference maker.

2 Charges of Disruption

charges of Disruption basically means you have no down-time, no weak moment where 'oh, he used Disruption, I can go on him now', because you always have another one ready. You can save 2 allies, save an ally and get illusions of the enemy carry, disrupt 2 enemy cores, save an ally and yourself as well, the possibilities are endless.
Items Tooltips