Nerds Wraith King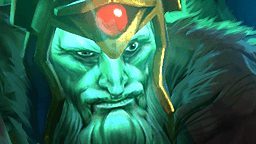 Wraith King
Updated: 3/9/23, 4:10 PM
Patch 7.32e
Hero stats
1,154
47.23%
31
22.58%
Description
Tome Rating:

Wraith King is a strength melee carry, who is one of the most efficient junglers in the game. He can be played as a support with main focus on summons and auras, whie also roaming around.

This build is untraditional and may require additional understanding of hero's limits and the build's idea. Try it only if you know what you are doing.
The build is based on replays of Divine 5 players and inspired by Secret.Puppey's match as support Wraith King during ESL One Katowice 2018 major.
Skill Build
Talents
Reincarnation Casts Wraithfire Blast
25
-2s Mortal Strike Cooldown
+6 Minimum Skeletons Spawned
20
+25% Cleave
+26 Skeletons Attack Damage
15
+0.7s Wraithfire Blast Stun Duration
+25% Summon Skeleton Duration/-25% Cooldown
10
+8% Vampiric Spirit Lifesteal
Tooltips
Spells Tooltips

Mortal Strike

Great ability for zoning enemies early, as well as farm jungle inbetween ganks. Crits are good for trading hits and farming jungle early, skeletons are great for zoning opponents and farming jugle early on. Note that you can also use wards to guide your skeletons around.

Reincarnation

Signature skill that makes a decent tank out of us. You can skip it early on if you don't want to waste it without a purpose.

Wraithfire Blast

Good skill to learn at level 1 for a kill potential. Otherwise get it on level 2 and keep it level 1 for a while.
Items Tooltips