Nerds Treant Protector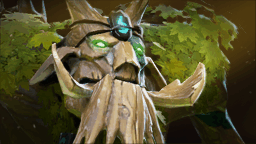 Treant Protector
Offlane Support
Hard Support
Updated: 3/9/23, 4:10 PM
Patch 7.32e
Hero stats
3,980
52.21%
3,907
52.32%
Description
Tome Rating:


Treant Protector is Strength support hero. He is good at pressuring during laning stage (with a good laning partner), scouting while roaming around enemy territory and being unspotted, giving allies a lot of information, while also resetting teamfights, saving allies and being threat at any stage of the game.

This build is based on Immortal rank support Treant matches.
Skill Build
Talents
450 AoE Living Armor
25
Overgrowth Undispellable
+40 Leech Seed Damage/Heal
20
+8 Living Armor Bonus Armor
+30 Nature's Grasp Damage
15
+15% Leech Seed Movement Slow
-5s Nature's Grasp Cooldown
10
+2 Living Armor Heal Per Second
Tooltips
Spells Tooltips

Leech Seed

Strong slow + heal + damage spell for early brawling. As you get level 2 you will be able to kill somebody on your lane with your laning buddy. Try to max it out first to maximize your hero damage and kill potential early on.

Living Armor

Even while it's Treant's sinature ability, your main purpose early on is to dominate the lane. For that you need to max other spells to maximize kill potential and snowball.

Nature's Guise

Skill it to be annoying piece of tree. Be invisible, wait for a moment and then start attacking target with lower amount of regen to bully it out of lane. Root after hit should buy you some time to get additional one-two hits early on. Later into the game try to run around enemy jungle while being invisible, place wards and scout. Try to not show on the map. When you have blink - try to initiate with root from invisibility.

+15% Leech Seed Movement Slow

It's helpful against lineups that are effective at destroying trees or to limit enemy vision. Both talents are good, choose depending on situation and your playstyle.
Items Tooltips