Nerds Core Enchantress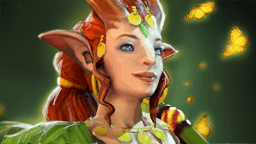 Enchantress
Midlane Core
Safelane Core
Offlane Core
Updated: 3/9/23, 4:59 PM
Patch 7.32e
Hero stats
2,414
46.60%
394
51.02%
Description
Tome Rating:



Enchantress is durable intelligence hero, who is pretty good as agressive offlane. She has ability to boost her farm in offlane jungle, does not care about counterpicks and can destroy enemy core's life, while also being great damage dealer in lategame.
Skill Build
Talents
+20 Nature's Attendants Heal
25
+6.5% Impetus Damage
Enchant Affects Ancients
20
+-65 Untouchable Attack Slow
+5 Nature's Attendants Wisps
15
+45 Damage
+30 Movespeed during Nature's Attendants
10
+10% Magic Resistance
Tooltips
Spells Tooltips

Enchant

Good for slowing enemies and, of course, for early farm and ganking. We want this to have ASAP to be able to farm jungle, but we don't need more than 1 point early on.

Impetus

Our main damage source. Can be used to dominate a lane, kill those who's trying to run away, kill couriers, defend from a distance.

Untouchable

Our first skill to max out. It gives us a lot in early game and helps with dominating on lane.

Nature's Attendants

Our main escape early. It has not really big radius and heals slowly, so we will use it only for ourself most of the time. You can learn this on lvl1 if there's risk of dying. Try to use it before fighting: it will help you tank shit and get out.

Enchant Affects Ancients

Most of the time having ancients is just better since you can split push with them, provide strong auras and so on. Altho, additional 6% impetus damage is quite a lot and it's good if you're not going to search for good creeps every time.

+5 Nature's Attendants Wisps

Having 8 more spirits is super nice to have if you have problems with surviving in fights while not being bursted. Altho, with urn and your built in movement speed it should be easier to survive, while +50 dmg helps while pushing structures and worth more.
Items Tooltips